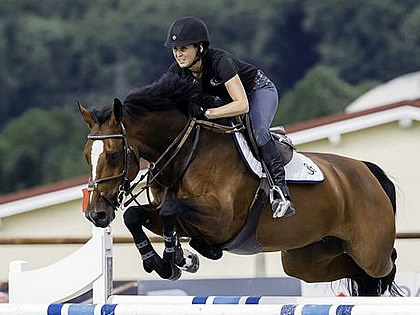 Samantha ( Sam ) McIntosh born 30 September 1975 in New Zealand is Penny Stevenson's daughter. Sam is regarded as one of the most stylish and effective riders on the world stage.

Sam has based and competed in Europe since she was 18 years old, and in her early years rode under the Bulgarian flag. During this period, Sam rode at Sydney Olympics and a World Cup final in Las Vegas, European Championships at Arnhem, Manheim, Hickstead, Donaueschingen and San Patrigano.
She rode at the World Championships in Jerez and Aachen and after changing back to the kiwi banner, at Kentucky.
Sam changed back to NZ nationality and relocated back to her hometown of Cambridge, New Zealand. At Chestnut Glade, she spent three years building up her own sports horse stable, ran her team of showjumpers and became very involved in coaching. Sam utilised her extensive knowledge gained from her years in Europe and was coaching , mentoring a lot of the countries aspiring show jump riders from Junior to Grand Prix level. She was also an agent for importing and exporting showjumpers worldwide.

In 2013 she headed back to Europe with her horses, initially basing herself close to Rotterdam, Netherlands, before moving on to Joelle and Philippe Dagut's stables in Arcachon, France. "This is my opportunity get back into the bigger shows and play some serious sport."