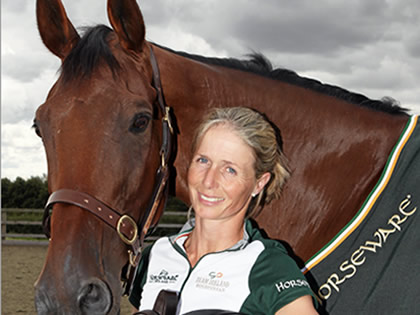 Irish rider Sarah Ennis (42) is a professional rider based in Dunboyne, Co. Meath where she runs Stellor Sport Horses and livery yard.

Sarah along with her four sisters all rode as children – four of them now compete and her sister Nicola has competed in world Cup – influenced by their mother, a keen rider. Sarah progressed through the Ward Union and Howth Pony Clubs and the Irish Pony Society. She competed in pure dressage and at the age of 15 was awarded her first Bronze Saddle.
Aged 18 she began eventing and in 1996 was selected for the European Young Rider Squad.
In 2012 she won the three-star at Ballindenisk with BLM Diamond Delux and at the end of a successful year was the highest ranked Irish rider in the HSBC word rankings.

Last year she completed her third Badminton (twice with Sugar Brown Babe and last year with BLM Diamond Delux) – Badminton entry Horseware Stellor Rebound completed Pau.
With Sugar Brown Babe she was a member of the Irish team for the 2014 WEG and the 2013 European Championships in Malmo.
Sarah who trains with Ian Fearron and Ian Woodhead (dressage) is also a keen sailor and diver and is qualified to Dive Master level.