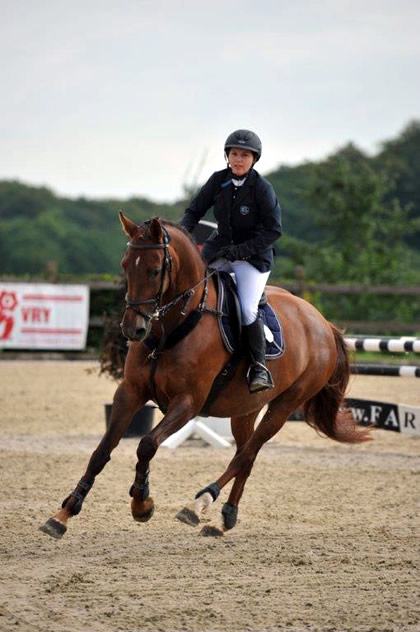 Dear Horsefirst Team
I bought my jumping horse Cassara, a 9 year old Dutch mare, at the end of 2014. When I tried her in September, she was very sweet and easy going but I learned during our first winter together that February and March are the worst months with her.

It turned out that she is very spooky and sharp but I kept on thinking that this is because it was cold and because we are not used to each other yet. We spent the first winter in a stable close to our home but in spring 2015, I took her home. We breed Hannoveranians and have a farm at home with an indoor arena. I thought that with her being home and with the possibility to go out every day, the problem with her being spooky and tense goes away.
But again, this winter in February, it started to get worse and worse. She bucked me off twice during our jumping lesson, she was so sharp and tense that I couldn't work her at all, not even in dressage. Whenever I tried to loosen the reins a bit, she made U turns with me. After she bucked me off again last week, I remembered Relax Me and sent Gaye an e-mail. Every day, I was watching out for the shipment to be delivered and finally, it arrived yesterday.

I gave the loading dose to Cassara yesterday evening and this morning and voila, she is back to the horse that I love. No spooking aróund, no turning, no bucking. I was able to work her properly and allow her to stretch without running away. Thanks so much for this fantastic product, it is the only calmer I ever tried that works. Thanks Horsefirst that you gave me my horse back!