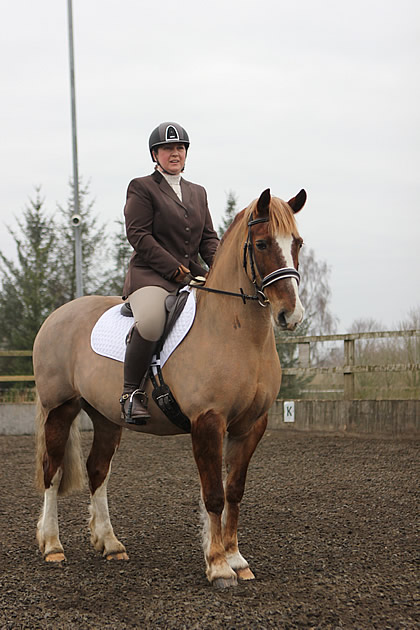 I bought my first horse almost two years ago after having to wait until I was 40!!!! she wasn't what I initially wanted but when I saw her I fell in love with her, she's a full up 14'2" chestnut Welsh Section D 17 year old mare, and she is everything that comes with it!! if you know what I mean?

Well after bumbling around for the first 12 months and doing nothing but hacking out, which HAD to be done in company as we have "issues" with hacking alone....I decided to give showing a try, well we almost got thrown out of our first veteran show for trying to kill the horse next to us, then we behaved so badly I forgot to salute the judge and walked off in a rage with her! our second wasn't much better but made everybody laugh, so at least we achieved something! then came The Cumberland Show!! what a mistake that was we spent the entire time cantering backwards, spinning and generally making a show of ourselves just not in the show ring as we couldn't even get her in it!!! so that was it we gave up and sulked for 6 months or so.
Then Julie at Lloyds Equestrian in Carlisle suggested I try RelaxMe, "I've tried everything there is and they just don't work" I told her, but she persuaded me to give it a go..........one month later we won our first ever rosette!! we got a 5th in our first dressage competition and Julie was there to see it happen! everyone who knows us are amazed by the transformation. We could not be without it and we recommend it to everyone who's looking for a calmer, the difference is so remarkable, Julie even uses us as an example.
That wild chestnut mare is called Rosie and she and I are one hell of a team now! and we now have the confidence to take on anything...even hacking alone encountering all sorts of demons! It truly has changed our lives, it's made my red devil a sweet angel without taking her personality or doping her! It's amazing stuff and we love it!