You may redeem the distinctive RED HORSE FIRST head points against our merchandise. (Please note, you cannot redeem loyalty points against any supplement products, only merchandise - Jackets, Caps, Saddle Cloths etc).
Visit www.horsefirstdirect.com for the range of merchandise available or to redeem your points and place an order.
For example if you purchase 4kg of Garlic & more and 2.5 litres of B Well you would have 4 points in your account.  You may redeem four points towards a horse first baseball cap! 
First Time Registration
Upon first time registration you will receive a welcome email from horsefirstdirect.com (normally within 30 working days) with your new account details, allowing you to log in with the email address used during registration, and a randomly generated password.
(You may change your password to something more memorable, once logged in).
Existing Members
Each time you submit your loyalty card numbers, they are checked against our record system for authenticity and duplication. If they are legitimate and haven't been previously claimed, you will receive an email with your points update (Please note - it can take up to 30 working days to receive this confirmation email). Please ensure you complete the existing member form and always use the email address initially used upon first registration. To check you points balance, you may log in to horsefirstdirect.com as detailed below.
Check You Points Balance – How to access your Horse First Direct account:
Visit: www.horsefirstdirect.com and select the "Log In" link at the top of the page.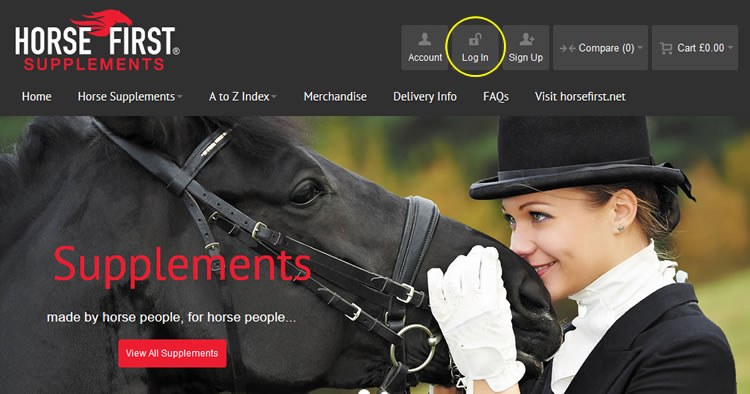 Enter your email address and password: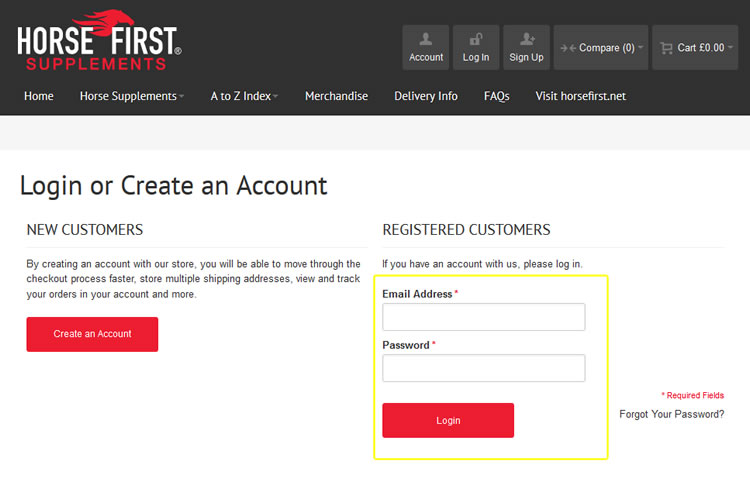 Your Account Dashboard:
Once signed in, you can view your account dashboard which contains registered email address and billing / delivery addresses.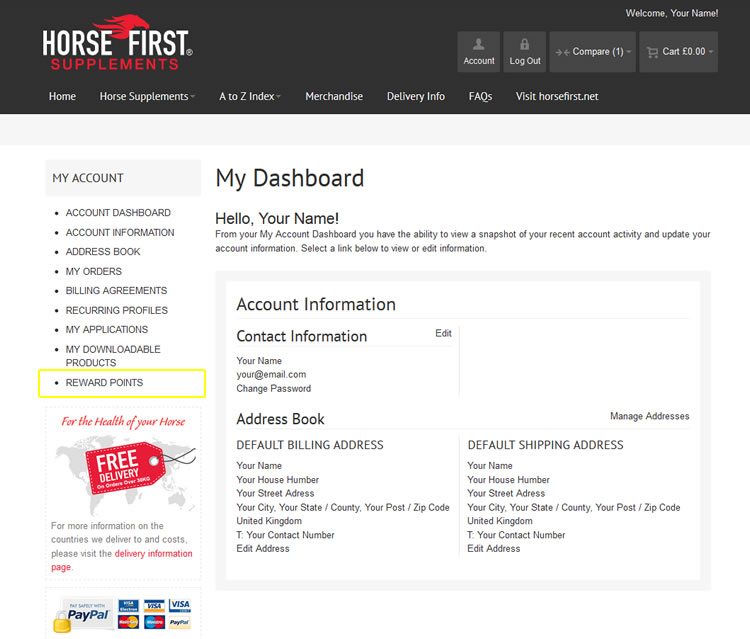 Your Reward Points Balance:
Select the "Reward Points" link on the left, to view all points allocated to your account. This is a current balance and includes any deductions for points already redeemed. It will not however display any very recently added points - it will take 7 to 10 days to show, from the date of submission.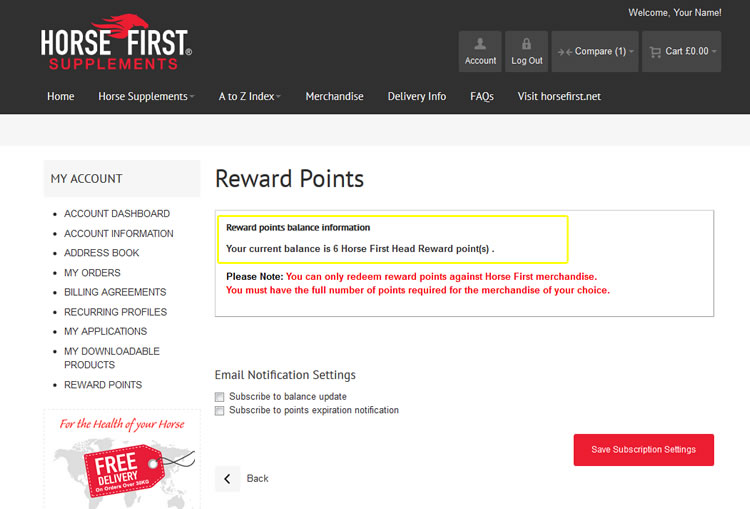 How To Redeem Your Points:
Horse First reward points can be redeemed against any merchandise listed in the www.horseforstdirect.com website. Please note: Reward points cannot be redeemed against any of our supplement range. Each item will show the number of points required to purchase. Select the item of your choice and add it to the shopping basket.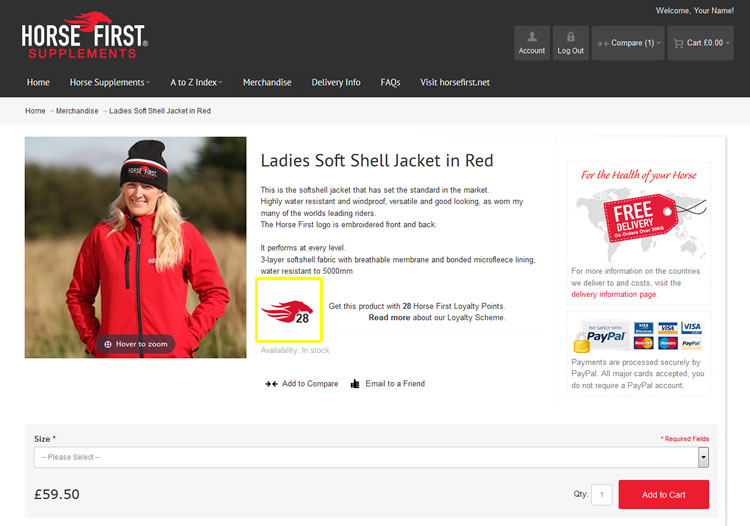 Checkout: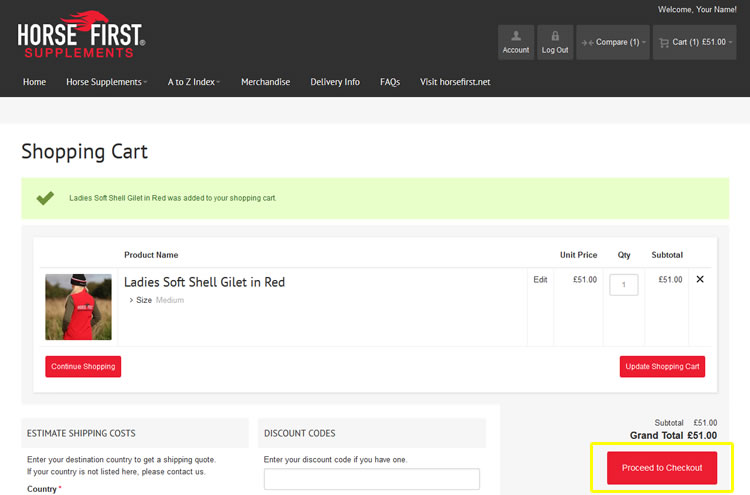 Confirm your billing and shipping details in the next steps, then at "Payment Information" a checkbox and your available points are displayed. Select the checkbox to use your points, and enter the number you wish to allocate to the purchase. You do not need to change this number if you have points in excess to the amout required for your chosen item.

Checkout will only deduct the required amount, leaving you any balance for the next purchase. You also have the option to use less than the required points and pay the balance. On the next screen totals will be shown and will include the necessary point deductions.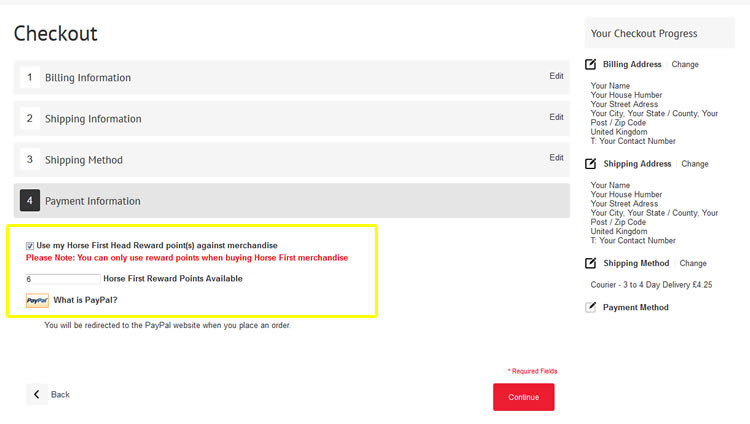 Once checkout is complete, your order will be dispatched depending on stock availability.
If there are any problems or delays, we will notify you by email.